Saturday, October 07, 2006
Grades after Week 6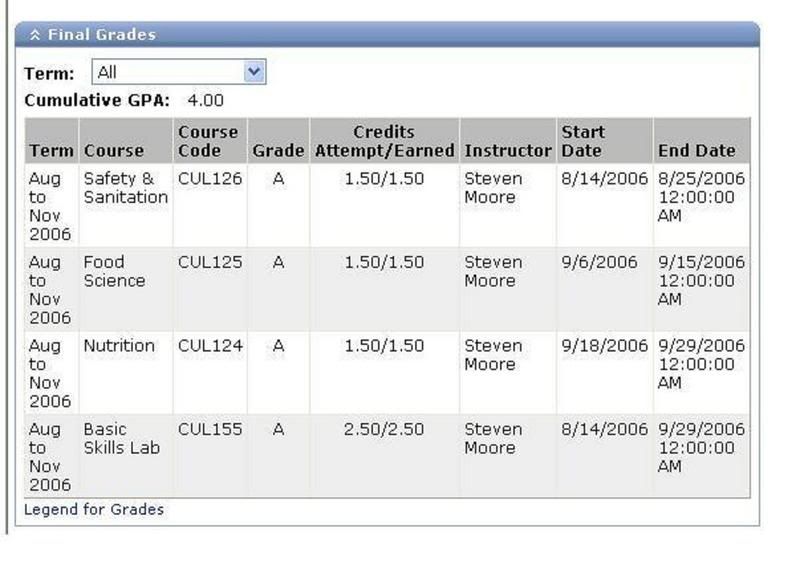 I'm working hard to maintain my grades. I'm afraid that if I dip below 4.0 that I won't care how far I fall
Homesick
Can you believe I actually miss these???
"O"
"P"
"C"
"P"
This
actually made me tear a little...even tho I was there.
Wednesday, October 04, 2006
Raping cocktail olives...
Yesterday, in day two of Garde Manger, I was preparing the dressing that makes Lobster Louis...it goes from Mayonnaise to Thousand Island Dressing to Louis Dressing. While in the Thousand Island stage, "T" the "leader" of the group asked me if I needed any help...as the build up of Louis dressing is a process, I didn't, but told him that if he was dying to do something, he could chop up pimentos for me. He was drawing a blank so I explained to him that pimentos was that little red thing that comes in coctail olives and that they were actuall red bed peppers...that rang a bell. He asked me how much of it I needed and I replied that I wasn't sure but that I would consult the recipe or ask Chef. When "T" came back to ask again how much pimentos I needed, I noticed that he was holding a green olive. Then I looked over to his area of the workstation and he had a two gallon jar of olives. I immediately put two and two together and siad..."You're not taking those pimentos out of the olives right? There should be a jar or can of ONLY pimentos...that's what you're supposed to use." And he replies, "Oh."

I hadn't known it from the first 6 weeks of classes but instructors can recommend a student for "Honors". The recommendation comes when a student is (to this particular chef) Punctual, Prepared & Professional. Needless to say, I am striving for "Honors". It is for this reason I didn't bust out saying "Are you f*cking retarded? You don't rape cocktail olives for 4 ounces of pimentos!"