Tuesday, December 18, 2007
And Back Up To The Icy North I Go
After leaving Italy, I spent 3 weeks in Seattle with my sister while waiting for graduation day to arrive. I had sent out numerous resumes to properties in both San Francisco and Seattle and interviewed twice while I was up in Seattle.

All through school they had told us that despite our degree, do not expect to command top dollar right out of the gates. Armed with this knowledge, I will admit that the compensation (aka pay) offered at the two places I interviewed at in Seattle was disappointing. They both acknowledged that with my degree I was a bit over-qualified for the positions. I was upfront that I was looking for advancement...not only to make use of my learned skills but so I could at least pay off student loans.

Of the two properties, the first place was in a flux of sorts. The chef had only been there a few months and was tasked with redesigning both the menus as well as the kitchen. There was no promise that I would be able to advance as quickly as I hoped but the chef saw that I had much to contribute and was willing to go back to HR to see if she could get me more money. The second place was a larger company that was very set in their program and could promise advancement three months down the line, but was set on the initial pay offer. I left Seattle thinking I might be able to do better in San Francisco.

All the time I was in Seattle I couldn't wait to be back in San Francisco. Not only was I more familiar with this city (having lived here for a year) but I was also more mobile. After my mother and sister left SF, I realized how harsh the city is. It's one thing to stay at the Hilton and quite another to be on your own. I saw the city once again as I had when I first arrived in August of 2006. The human condition here makes me sad and even though I have friends and have met with them, I still feel very much alone.

Within days, I received a call from the first property I interviewed at. They have come back with an offer that not only gave me more responsibility but also increased the pay. Without any other nibbles in San Francisco, I decided to take the offer and at the end of this week, will be driving back up to Seattle to start my new life and career.

Tuesday, December 11, 2007
Now the real work begins
Graduation has come and gone. The ceremony was relatively short considering the number of graduates. Here are links to photos of me at graduation taken by a professional photographer.


http://www.photoreflect.com/pr3/photocard.aspx?pc=4858103

http://www.photoreflect.com/pr3/photocard.aspx?pc=4858106

My mother, sister, cousin and friend attended the ceremony as my guests. They also took photos but there aren't many and not all came out great. Would have helped if I knew where they were sitting and looked somewhat in that direction.

Friday, November 09, 2007
Iron Chef Challenge
Yesterday after getting up at an ungodly late hour (don't you love being on holiday) I ventured out to see the city. I walked a couple blocks to catch a bus but on the way down, my eye caught an outdoor market on Corso Racconigi. I got out on the next stop and walked back to the market. It was glorious and I spent an hour perusing the stalls.

I had text messaged Paolo to ask if he wanted me to pick something up from the market. He had earlier apologized for not having much in the refrigerator as they have been much too busy to go to a market to restock. He said it was unnecessary but if I wanted to, I could pick something up...especially if I wanted to cook. I was very straight forward with him when I said, "I'm on holiday, I do not want to cook." I told him I'd pick up something and it would be a surprise and he'd have to figure out how to cook it. I specifically said Iron Chef. Unknown to me, the Iron Chef phenomenon was unknown to him - of course a visit to youtube.com fixed that.

I picked up some fresh young artichokes still on the stem, a large bunch of cime de rapa (broccoli rabe), beautiful mushrooms and a package of orecchiette pasta as well as pomegranates, sweet grapes, and clementines. I carried my purchases home but found there was no space in the refrigerator for them all. That night, I surprised Paolo with my shopping and he made a nice supper of fresh artichoke salad with Gran Padano cheese and the pasta with the broccoli rabe. He said he had never cooked the broccoli rabe before and that he would surely purchase some again. We opened a bottle of Chianti that I brought from Badia A Coltibuono and made plans for the rest of the broccoli rabe, artichokes and mushrooms.

Wednesday, November 07, 2007
Arrivederci Toscana
I have left Badia A Colitbuono. My externship officially ended on Friday, Nov 2nd, but I worked until Sunday the 4th. The restaurant was closed for dinner service as that night , the owner was taking the entire staff to dinner - it is the "end of the season" ritual. I was forewarned that there would be mass drunkenness and that was the real reason we were also closed the next day. I will say that of the three cases of wine we brought only two were opened and it wasn't as bad as I was brought to believe.

On Monday I was left all alone on the property. Even Sunil, who lives above the restaurant had gone to Sienna and left me the key to the restaurant so that I can make myself something to eat. I would think that this was my chance to go ape but I had fruit in the morning and made some rice, eggs and reheated some leftover pork (you thought I was gonna say Spam right? The pork was pretty dry and I should have made the Spam). I was online for a little bit but mostly spent the day packing.

I had to pack for Tornio, as well as Seattle. My plan was to leave my two large suitcases in Prato with Irene, taking my smaller rolling case to Torino. I would return from Torino taking all with me to San Francisco. Initially I had thought that I would not be allowed to take two checked bags with me to Seattle and would store the second bag in the SF airport while I was in Seattle but it turns out, Alaska allows two checked bags and I will be taking all to Seattle with me (get ready Kentra).

I got a lift from Andrea and Johnny to the Montevarchi train station and from there I bought a ticket to Firenze Santa Maria Novella station. I would check the times then purchase a second ticket to Prato Centrale where Irene would pick me up at 7pm. I am always nervous about traveling on the trains since my first day in Italy. I easily loaded my bags (which included, two large suitcases, one smaller carry on size rolling bag, a matching tote bag, my camera case, my purse and a tote bag that carried the wine and my French chicken) onto the train in Montevarchi. When I arrived in Firenze, I got everything out and found a luggage cart on the platform. Lucky me! What I should have done before loading everything on was check if the sucker was rolling right. Turns out the wheels were locked and I once again offloaded everything. I went and purchased my ticket to Prato then went looking for a cart as well as a restroom. I found the luggage storage area which cost 3,80 Euro per bag for the first 5 hours but I had only one hour before my train to Prato and really only needed someone to watch my stuff while I used the ladies room. An attendant saw me lingering and asked if I needed some help. I asked where I could get a cart and was about to ask how much it would cost when, he brought it around the counter for me as well as loaded my bags on it. And it didn't cost me a thing. Bravo. He then told me the bagno (restroom) was at Track 5. I was on my merry way when I discovered that one, the restrooms were pay restrooms (not a big deal) but the doorway to the restrooms would not allow my cart-o-bags through. So once again I offloaded my bags to just inside the door, paid the ,70 fee to go past the gate, and whizzed as fast as I could. When I came back I was happy to find that my cart was still there.

When the time came, I loaded my bags onto the train - at S.M.N. station it is not a problem as it is usually the first or last stop. Meaning, the train sits on the track for awhile so you can take some time loading and unloading. UNLIKE when I was getting off the train in Prato...I had all my bags by the door and after waiting for the bulk of passengers to exit I started to unload. Irene met me at the train doors and was assisting but the doors closed before I got my last bag off. I panicked! NOT AGAIN! Luckily there was a girl wanting to kiss her man goodbye and she hit the "open" button and I was able to get my last bag (and myself) off the train.

I stayed the night with Irene and Umberto. We had dinner at home (Irene's risotto was really good but Umberto's mom's eggplant pickles were awesome). Opened up the bottle of Cultus Boni I brought and watched a DVD while drinking some Vin Santo and nibbling on cantuccini that I made. In the morning, they brought me to the train station and I caught the first train from Prato to Picenza (via Bologna and Modena)then transfered trains to Torino (via Voghera and Alessandria). Paolo and Nausica picked me up from the station, brought me to Corso Monte Cucco, made me some pasta, left me the keys and a map of the city as well as some instructions on where the nearest supermarket is and what bus to catch to the city center. I have since, taken a shower and surfed online. I should be going now.

Thursday, October 25, 2007
Rome
I've been to Rome, here is the proof.
Tuesday, October 23, 2007
Moniker
My nickname in the kitchen is 'Michelangelo'. Three guesses why.

Tuesday, October 16, 2007
Pastries
For the first 6-7 weeks in Italy, I had been posted at the antipasto station. The other two students had already rotated through the stations: antipasto, pasta & entrees, and had settled into their particular stations by the time I arrived. It was understood that I would get a go at the other stations when they departed. However, when Corrado left in mid September, it left an open slot in the dessert station. While Genesis and Patrick were still here, whomever wasn't busiest would put out desserts. Now that they have gone, there has been a significant shift. Initially Daniele had moved to desserts preparing chocolate torts and such for service while I handled antipasto by myself. We each have a day and a half off per week and with Patrick and Genesis gone, that meant there was only a staff of four on a daily basis - except on Saturdays and sometimes Sunday mornings when everyone was on board. After a couple weeks of Daniele at desserts, I was shifted there. On Tuesdays & Wednesday mornings when Johnny is off, Chef Andrea is at his station - entree. Andrea takes over Francesco's post, pasta station, when he is off on Thursday evenings and all Friday. When Daniele is off, I move back over to antipasto and Andrea is at desserts.
Andrea promises that I will have a chance at every station but I have my doubts. Lunch service is usually busier and not the greatest time to have a newbie. The couple of times that they tried to get me in at dinner service it had been so slow it wasn't much of an experience. I have been very observant as far as what goes on in pasta station and even made a couple orders of risotto one night. I know how to plate just about every dish but have yet to get hands on from start to finish with each dish.first
Desserts has been fun. I had always said that I didn't want to be a pastry chef because I prefer not to be pigeon holed in just sweets. This still holds true, yet there is an undeniable pull towards pastries...you just don't get the same ooh's and ahh's with savoury food as you do with desserts. Dessert station has me making:
Cantuccini - little almond biscotti which we serve with vin santo.
Semifreddo - a terrine of first a layer of chestnut paste, then a mixture of ricotta cheese, Italian meringue, whipped cream and chestnut honey with roasted and candied whole chestnuts buried in the center.
Bavaresi - a pannacotta consisting of a reduction of lemon, orange and grapefruit juices, creme anglaise, gelatin sheets and whipped cream. We also candy the peels of the citrus fruits to serve on top after we unmold them.
Chocolate and pear torts - fresh pears are peeled then cooked in a simple syrup. A chocolate crust is rolled out and fitted into springform pans then prebaked. Home-made pomegranate jelly is spread over the crust then pear halves are laid in. The tort batter is poured in and all is baked into chocolaty goodness.
Vanilla and Chocolate gelato as well was the candied orange that is served alongside it.
Nut bread - chock full of hazelnuts, pinenuts, almonds, and raisens which is served on the cheese platter.
Today I was tasked with shelling a 1 kilo (2.2 lbs) bag of pistachios. I'm only 1/2 way through and already know the pain will rival any Nintendo thumb I ever got back in the SuperMario days.
My digs
This is what you do when you have too much time on your hands...this is an approximate layout of the house in which I am living. Genesis' and Patrick's rooms are now empty. To the left of the TV room is Sunil's domain. I have seen it but cannot recall the exact layout in order to add it. If you haven't yet noticed...what is missing is a kitchen. Not only does Sunil's pad have a kitchen...albeit small, he also has a bidet!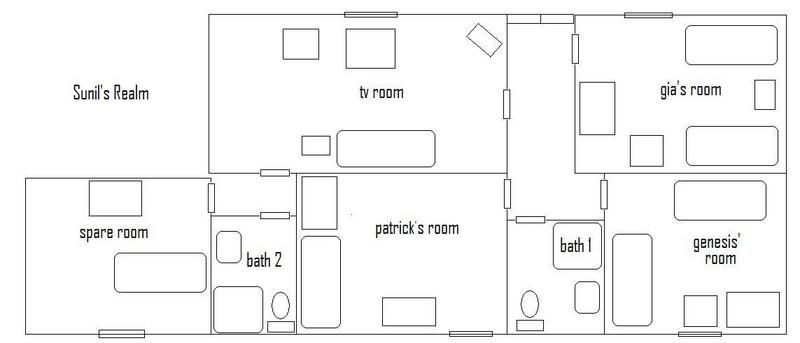 Losing Weight
If you knew me (as in seen me daily) before coming to Italy, you may have noticed in the photos that I've slimmed down some. For the first time EVER, I actually weigh less than what my driver's license says I weight...and consider that I lied on my DL. It's not really from any effort on my part. Of course I have 14 hour days (you're thinking "but you have a break in between lunch and dinner service" - yes I realize that but I'm counting from the start to the end OK?!) and am on my feet for at least 8 of those hours...also there is no chance whatsoever for me to run to the border for some Taco Bell. I only have two meals a day - lunch at 11:30 and dinner at 6:30. "Breakfast" - if you call it that, is an espresso. My main beverage is water...I get a choice between plain and bubbles...I do get the occasional Coke - and not the diet one...as well as flavouring my water with some Crystal Light (THANKS JOHN!). I eat PASTA and BREAD and CHEESE just about everyday...no, actually everyday...and I sneak in a scoop or two of gelato when it comes out of the machine. Who said you can't lose weight eating carbs?
The other weighty concern I have is my luggage. I arrived with two large suitcases as well as a rolling carry-on, my camera bag and the backpack which I consider my "purse". One of my large suitcases came just under the 50 pounds I am allowed and the other was 7 lbs over. I paid $50 USD for that 7 pounds. I have tried earnestly not to add to the things I'll have to take home. Most of my purchases have consisted of edibles and things I will use up while I am here such as shampoo. But I have gained a laptop, tripod and a chicken. I have used up some products I brought...soap, toothpaste, moisturizer, etc...so that should lighten up my bags a little. I already knew that I wasn't going home with the whetstone I brought and I'm also leaving all my side-towels. The kitchen shoes I brought will be tossed...it's showing wear and don't want to bring back the crud that's stuck in the grooves. I brought 6 chef coats with me. Four are from school and two my sister Kentra got for me when I first started on the culinary track back in '05. They have my name embroidered on them. I will most likely leave two of my school jackets here. One I will have the restaurant staff sign and one I will keep for memories. Corrado (Uncle Junior) had been wearing jackets left by previous students and has expressed interest in a jacket. I am unsure if I want to leave any of my chef pants. With my weight loss they are a bit big...but I also don't want to have to spend money on new pants. If you are thinking along the same lines regarding the jackets...I will not be wearing jackets with the school logo when I start working for another kitchen. They will either provide me with jackets or I'll have to buy plain unmarked ones.
I may dump my blue jeans. They are ridiculously baggy on me. That was the one thing that upset me about losing weight. I had purchased some new pants in Hawaii (before I arrived in SF) and after a couple months they were falling off my hips. I hadn't worn blue jeans in over a year - practically the entire time I was in SF...and finally bought a couple pairs to wear in Italy...now they are falling off! Losing weight sucks in that all the new clothes I have bought no longer fit!
I can't see losing much from my knife kit - and it's the heaviest thing I brought! But I'm sure there are few ounces that can be skimmed in the form of veggie peelers and silicone spatulas.
The one thing that I want and I know will be a big problem is the "dryer". I did a pretty extensive search to see if I can purchase one just like it in the US or online and I have had no luck. Anything similar is ridiculously expensive. Any chance you brought one back with you Gina? They are super cheap but bulky. It will cost me the additional fee of an extra bag...BUT I WANT IT SOOOO MUCH!